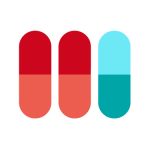 Call my Apo was available till end of year 2021.
Dowqnload now the new APP "
gesund.de"
on your cellphone.
We offer an App to pre-order for every location. It is easy: just scan our QR-Code on this page and download the APP for iOS and Android. Then enter zipcode of your Metropolitan Pharmacy or choose from proposed selection and add as your favourite pharmacy. Then it is very easy to let us know about your request or order.