***NEU***NEW*** Measurement of neutralizing corona antibodies (blood, 15 min, quantitative in BAU / ml, by appointment) 29.90 € These antibodies represent the individual protection that the disease or the vaccination has left in the immune system and that decreases over time – since the values ​​vary from person to person, it is worth taking a follow-up measurement in about 3 months.
Antibodytest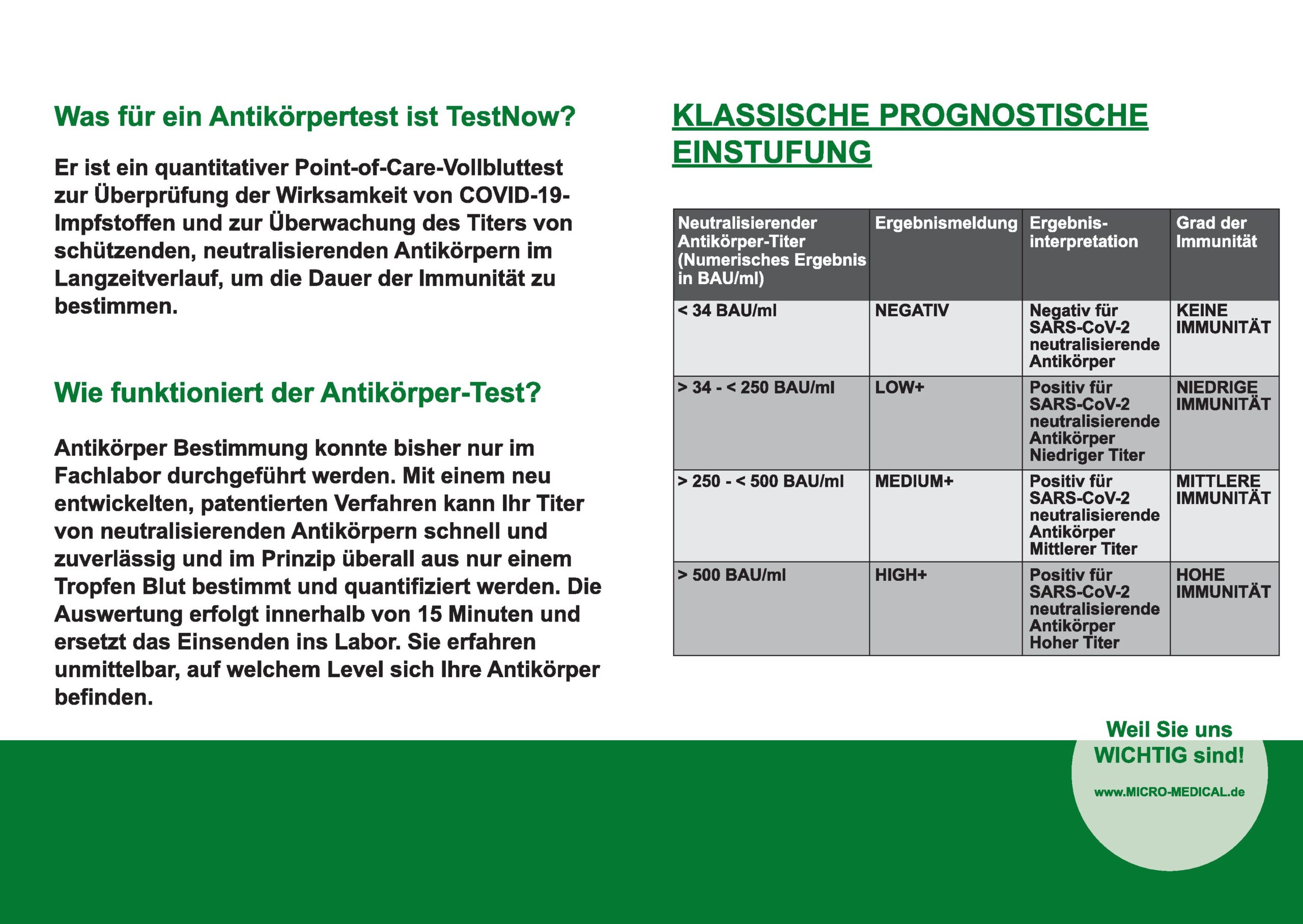 Delivery service at the Airport
for more informations or to place an order, please call +49 (0) 69 69 580 70.
Delivery charge € 3,90, when you ordering beauty products, dietry supplements, or travel items for less than € 30,00
Payable using a mobile terminal or in cash (€ or another major currency)
subject to availablity and sufficient staff in the pharmacy in Terminal 1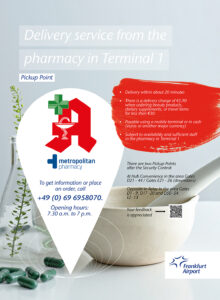 Delivery service at the Airport
for more informations or to place an order, please call +49 (0) 69 69 580 70.
Service MET BEAUTY
make-up consultation
personalised skin consultation (incl. melanin screening)
personalised skin & make-up consultation
Skinscope Skinscreening (incl. De-make-up)
Service MET TRAVEL / MET Phyto
digital vaccination certificate
Travel – Vaccination consultation
composing a personalised first aid
consultation to phyto medicine
metabolism Check-Up
intestinal flora status
basic profile intestine
Intestine consultation (basic)
Intestine consultation (follow-up meeting)
Fat acid Bloodspot Test
Fructose Sorbit breath-test
Homocystein Bloodspot Test
hsCRP Bloodspot Test
IgG4 foodstuff-screening Bloodspot Test
Lactose breath-test
Metabolic Screen
Serotonin Bloodspot Test
Vitamin D Bloodspot Test

Vitamin D Bloodspot Test (in pharmacy)
Vitamin D Bloodspot Test (in pharmacy)
Service MET PHARMA/ VITAL
anti aging consultation (40 min.)
Blood pressure measurement
Blood sugar measurement

nutrition counselling

(30 min.)
Fiever measurement
genetic test Pharma, (saliva test)
genetic test, statine tolerability (saliva test)
genetic test risk of thrombosis (saliva test)
massage device 10 min.
medication management (30 min.)
measurement of the oxygen saturation (Pulsoximeter)
smoking essation (30min.)
Hot spot at the airport Frankfurt – Metropolitan Pharmacy
In the vivid bank metropole you can find germany's biggest airport. With up to 70 mio. passengers a year the airport is not only the biggest employer but also the airport with the most different connections in the world. In a surrounding of 200km lives half of the german population. Metropolitan Pharmacy is located at 4 central spots inside the airport. Where thousands of people meet every day, we are responsible to maintan an optimized pharmaceutical infrastructure and advice. The name "Metropolitan Pharmacy" today stands for highest advisory skills, biggest product variety and first class service. Besides all normal medicines we have a wide spectrum of own nutrient supplements in our "vital" area. With a high purity we present "Made in Germany" products in an attractive appearance. Additionally we cover the promising areas sport, diet, micronutrients and gastric disturbances. In the "Tech" area we carry surprising products from europes leasing medical device manufacturers. This variety contains infrared thermometers, pulsoximeters, muscle-tens machines, mouth showers and up to date electric toothbrushes. Our "beauty" Area convices with over 18 series of world famous brands.
Elmar Arnold, Owner & Pharmacist
Terminal 1/B - Shopping Boulevard
Terminal 1 - Transit Z - Security Area
Terminal 2 - Shopping Plaza
FRA – Frankfurt
Pharmacy at the internationale Airport Frankfurt
Our postal address:
METROPOLITAN PHARMACY Postfach 151/134 D-60549 Frankfurt / Flughafen phone: +49 (0)69 – 695 807-0 fax. +49 (0)69 – 695 807-16 e-mail:
FRA@metropolitan-pharmacy.com
via APP:
 download APP – Android & iOS
 connect with Metropolitan Pharmacy Frankfurt
DOWNLOAD LOCATION