UV protection in all weather
Sun care combines the highest UV protection and maximum tolerance, even for sensitive skin and skin prone to allergies
On the beach, in the outdoor pool or in the park – a sunscreen is essential to protect us from harmful UV rays in summer. So that we don't always have to apply a thick layer of sunscreen, many day care products now contain a sun protection factor. This is particularly practical! When our face and body are directly exposed to the sun, UVA and UVB rays can penetrate deep into the skin. Sunburn usually occurs as a result of UVB radiation. UVA rays are less energetic, yet they cause increased skin aging and the risk of skin cancer. Most of the signs of aging such as wrinkles, fine lines or pigment spots can be attributed to UV radiation. Therefore, intensive protection is particularly important in summer. But do we also need care with a sun protection factor in winter? And do we have to protect our skin from the sun even on rainy days? The answer is "yes"!
Sunscreen or day care with SPF?
Sufficient sun protection is also important in the winter months or when it rains. UVA and UVB rays penetrate even through a closed cloud cover. Our skin is more sensitive in the winter months and susceptible to light-induced skin aging. It is better to protect them with a product with a UV filter. In contrast to summer, you don't necessarily need to use sunscreen in the cold months or on rainy days. A high-quality day care product with an integrated sun protection factor is often sufficient. You should only apply good sunscreen with a high sun protection factor (SPF 50+) when skiing or hiking in the mountains, as the sun's rays are much more intense there. However, whether you use a sun spray, sun oil or sun lotion depends on your skin type and needs.
Goodbye to wrinkles: face cream with anti-aging properties and SPF
With the right care product, you can protect your face from the sun and at the same time counteract the signs of light-induced skin aging.
Sunscreen: When do I need to protect myself from the sun?
Daily protection from the sun is important. You don't always have to use a rich sunscreen for your face and body. Especially in the winter months and for daily use in everyday life, a day cream with SPF is recommended for the skin of the face, which is well tolerated and yet protects against external influences. You should only use body and face care with a high sun protection factor if you are outdoors for a long time, on vacation on the beach or spend the whole day in the park. This is especially important in summer. As soon as you expose your skin to intense sunlight, you shouldn't forget about a high level of UV protection.
This is how you get tanned despite sun protection!
Even if you protect yourself from the sun with a sun protection factor in your day care all year round, it is important that you give your skin time off. Especially in summer you shouldn't bathe too intensively in the sun, but look for a place in the shade more often. Likewise, a sun hat, sunglasses and long-sleeved clothing will help to give your skin a break. You can usually achieve a beautiful brown complexion after just a few moments in the sun. And that with UV protection! Despite the integrated SPF, the skin's melanin production is strongly stimulated.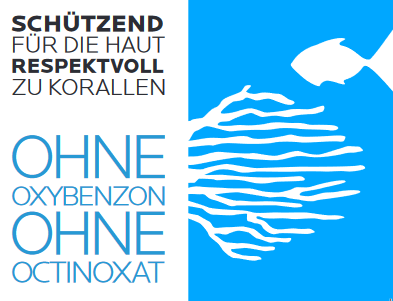 Protective for the skin – respectful of corals
Even if some sunscreens are declared waterproof, tons of sunscreen end up in the oceans every year. Mineral sun protection can be a way of preventing possible contamination. This contains filters made of zinc or titanium oxide. These minerals lie on the skin like countless tiny mirrors, where they reflect and absorb harmful UV radiation. The skin is protected and the corals are spared.
Some manufacturers rely on Mexoryl. This chemical filter offers a high level of protection against UV rays and guarantees high light, sweat and water stability. The combination of Mexoryl SX and Mexoryl XL also ensures high broadband protection and at the same time donates moisture.
So not all sun creams are the same. In order to find the right sun protection, we would be happy to inform you about the different UV filters and other ingredients. In many cases, the creams indicate that they are waterproof and coral-friendly, for example. So you can enjoy the sun well protected.
To prepare the skin for the sun, we recommend: metvital sun