Beautiful, healthy hair requires a lot of care. The right care – from washing to combing – is therefore the alpha and omega. Whether dry, fine, curly or colored, you will find the right care for every hair type in our range.
Precisely tailored to your beauty. In life, hair is subject to various internal and external influences. Hence, it is important to provide the hair with essential nutrients and support the hair. Only Orthomol Hair Intense combines important micronutrients and B vitamins with the amino acids L-cysteine ​​and L-methionine as well as the patented millet extract KeraLiacin®, which contains miliacin, among other things.
A unique composition of micronutrients for full, healthy hair and beautiful nails. The ingredients taurine, green tea and grape seed extract increase microcirculation. Selenium, zinc, iron and biotin contribute to the normal function of the immune system.
Chemical, mechanical and thermal aggressors significantly impair the hair structure and can lead to keratin degradation. The hair looks badly damaged, rough, dull, and brittle. The DERCOS Kera-Solutions Intensive Repair Shampoo by Vichy combines a micro-filling formula * with a pro-keratin complex to care for the hair in one application. Together with the DERCOS Kera-Solutions Regenerating Hair Mask 2 Minutes, it immediately reduces hair damage. *
* Instrumental tests for surface damage after applying shampoo, mask and serum.
René Furterer dedicates himself to the needs of dry hair in search of softness and shine and developed the new KARITE HYDRA products, silicone-free, with a light, creamy texture. All that remains is a fresh and light fragrance, with delicate notes of citrus fruits and white flowers. Their intensely moisturizing formulations strengthen the hydrolipid film, prevent transepidermal water loss and protect against external attacks for optimal hydration without weighing the hair down. These products combine shea oil and cimentrio, exclusive to René Furterer.
Proper nail care is very important so that beautiful nail polishes come into their own on nails. Because if you paint your nails often, you also have to take care of them, otherwise they will become brittle. But even if your nails rarely get to see polish, the right care is important. There are many care products that perfectly support nail care. For example, nail oil is the perfect choice for dry nails.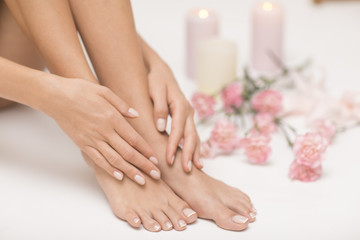 Dr. Hauschka – Neem Nail Oil
For the comprehensive care of your nails and cuticles, you can fall back on an oil with various medicinal plant extracts – the Dr. Hauschka Neem Nail Oil. It firms and strengthens your nails, it keeps the cuticle supple and prevents cracks. You will immediately feel the nourishing effect of our nail oil. But you also sustainably support the health of your nails because this nail care oil prevents excessive keratinization of the cuticle and helps the nail substance to grow back healthily. The neem nail oil is suitable for hands and feet.
Dr. Hauschka – Neem Nail Oil Pen
In the form of a nail care pen, you can easily use our proven Neem nail oil in between and on the go. The cover cap allows you to gently push back the cuticle, the applicator a clean application of the nourishing composition. With the Dr. Hauschka Neem Nail Oil Pen protect the nail bed and strengthen the nail structure. The nail care pen is very economical in use and contains three replacement tips. It is suitable for your hands and feet.