digital certificates of vaccination
digital certificates of vaccination
You can get your digital certificates of vaccination.

Just come around with your international certificates of vaccination and passport.

or
– german health insurance
in any case the vaccination needs to be approved in Germany.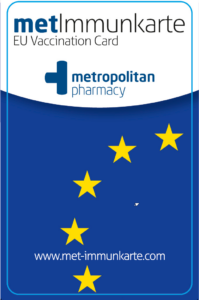 metImmunkarte
New in BER, DUS, HAM and MUC!
The new metimmune card is the physically robust equivalent of the vaccination certificate accepted throughout Europe.
The QR code of the complete vaccination is shown on the back of the metimmune card and thus corresponds to the QR code of the CovPass or Corona-Warn-App.
During controls, this QR code can only be checked for validity with the official CovPassCheck app.
So that the vaccination status can also be checked without a mobile device (smartphone, tablet), the QR code also includes the full name, date of birth and the number of vaccinations administered with the vaccination date of the complete vaccination (identical to the analogue paper form).